Bamboo Plantations Along the Yamuna Bank Can Sequester Carbon from Delhi's Polluted Air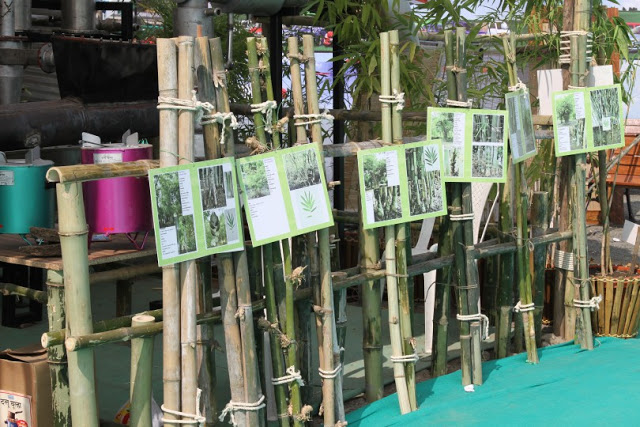 How about planting bamboo extensively along the banks of the Yamuna to sequester the carbon from Delhi's vehicle emissions? According to the World Bank, India's per person emission of carbon dioxide was 1,730 kg a year in 2014. Another website says this has risen to 1,900 kg in 2016. Bharathi Nambi, a scientist says it will take just five bamboos a year to make an Indian carbon neutral because each of them absorbs about 400 kg of CO2 a year.
Dense planting of bamboo on the banks of the Yamuna, he says, will not only absorb CO2 but also bring down particulate matter. The plant is an "excellent scavenger," he says; its roots do not go below two feet, so it can absorb rich nutrients in raw sewage that flow untreated into the Yamuna and raise its bio-oxygen demand. During rainy season, the clumps will slow the flow and reduce the chances of flooding downstream. Submergence does not affect the plants. There will be economic benefits in the form of employment and income Read More..
Impact of Typhoon of bamboo energy plantation assets. None another of Beema Bamboo in plantation is suffered any damage. In fact, Bamboo bend even to ground & simply straightened & continue to grow Read More...
Clean Planet Bamboo Energy 1
With the funds you invest in highly profitable production of renewable bioenergy. Utilized to is an economically and ecologically highly efficient model based on the unique properties of the energy crop Beema bamboo. The Beema bamboo is one of the fastest growing plants on the planet in general and combines also a number of features that make it ideal for the production of biomass. The Bamboo Energy 1 Ltd is involved in the Tablas Bamboo Plantation Corp., Which manages a plantation area of ​​approximately 600 hectares and is planted with Beema bamboo. With a number of 2,500 plants per hectare a total of 1.5 million bamboo plants are grown, the annual yield after picking up about 90,000 tons of biomass for sale as a fuel in the form of wood chips (wood chips) Read More...
A new bamboo variety called Beema – a clone developed from naturally-occurring wild Bambusa balcooa – produces more biomass, has better carbon sequestration and low ash content and is a superior fuel. It is 100% homogenous, suitable for high-density plantation and responds well to agronomic practices. Tissue-cultured, it is seen to offer the best quality bamboo and is free from disease Read More...
Only 80 ha of bamboo needed to generate 1 MW of electricity.Long-term fuel contract no more a concern with continuously available feedstock.. Read More...
Beema Bamboo is an exceptional variety of Bamboo developed by Growmore which provides high yields of biomass per acre of plantation from the second year and produces 10 or more new shoots every year which can be harvested and utilized as feedstock... Read More...
Now imagine if there would be a bamboo that grows 8 times faster and also had a 5-fold higher density than the normal bamboo. This is not a fantasy but an actually existing, newly grown bamboo. This so-called Beema Bamboo is one of the fastest growing plants on earth Read More...
It is said that banyan tree gives more oxygen but it is highly proven in India that a tree species of bamboo which is called as 'BEEMA BAMBOO' inhales 500 kilograms of carbon di oxide from the atmosphere for each year and exhales oxygen like a oxygen factory Read More...
Growmore Biotech's bamboo variety is promising to transform India's renewable energy sector, provide environment-friendly wood for the paper industry and also help reclaim lost forest cover in two years. For companies with large campuses, this bamboo will help them become carbon neutral. Benedict Paramanand discusses the positive impact with Dr. Bharathi, the chief scientist who led a team that developed this wonder plant Read More...
The project scope entails the cultivation of 500 hectares of Beema bamboo in the Ilembe District , the setup of a laboratory and nursery at the Dube Trade Port and a power plant (3.6MWe) in Isithebe. The project kick of date is November 2013, with planting of the bamboo shoots starting in Decembe2013/ January 2014.This initiative in South Africa is a national demonstration project that will enhance the use of the Beema bamboo biomass feedstock for the generation of electricity
The growing of bamboo will assist Eskom in acquiring much needed sustainable biomass feedstock for the co-firing of their power stations. Eskom has to reduce its reliance on fossil fuels by 10%, and replace it with a sustainable biomass feedstock by 2026 Read More...
BIO-MASS industry was not growing like solar and other sectors in India as there was dearth of feedstock, said Dr Nimba Barathi. Managing Director of Growmore Bio-Tech Limited while speaking at the TiF Huh conference on Clean Tech on Monday.
Dr Barathi who had discovered Beema bamboo as one of the best solution for generating energy said that from Beema bamboo, one can take 40 tonnes of yield per acre every year. One can do long-term contracts from Beema bamboo and it has been proved also Read More...